100th anniversary of the Czech Republic /Initiative/
22 December 2017
President of the Czech Republic M. Zeman
The new Government of the Czech Republic
Card. Dominik Duka and Czech Bishops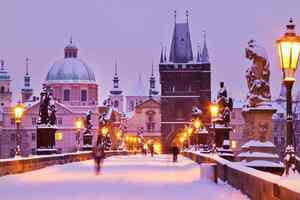 In 2018, we will commemorate the 100th anniversary of the foundation of our independent republic.
The Byzantine Catholic Patriarchate (BCP) proposes launching a revival programme with the motto "Restoration of the family = Restoration of the nation". Let nationwide demonstrations be held in all the regional capitals on six memorable days in the jubilee year:
2 April – National holiday – Easter Monday
5 July – National holiday – St Cyril and Methodius Day
6 July – National holiday – Jan Hus Day (demonstration only in Prague)
28 September – National holiday – St Wenceslas Day
28 October – 100th anniversary of the Republic
26 December – Second Christmas Day
Speeches should be delivered by regional representatives as well as by the leaders of patriotic and Christian movements. Demonstrations should enjoy the support from and participation of schools, local companies, organizations, political parties, folklore dance and song ensembles in traditional costumes e.g. from Valašsko (Wallachia), Slovácko (Moravian Slovakia), Chodsko, South Bohemia, Vysočina (Highlands Region)… Demonstrations should also be supported by church choirs and religious processions with banners according to the tradition of our ancestors who participated in pilgrimages and penitential processions through the fields (e.g. on the feast of St Mark, on Corpus Christi…). The demonstration procession would then pass through the city with the aim of national and moral revival of the Czech nation.
It is embarrassing that there are parades and demonstrations held in Prague every year only by gays or non-profit organizations.
Patriots and Christians must not remain passive!
The BCP hereby appeals to Czech bishops to fulfil their task, to engage the priests and believers, and to support the moral and national revival process in the jubilee year. In addition, call on the faithful to renew prayer in the family, preferably between 8 and 9 p.m. You will thus also encourage those who have prayed the Rosary for the nation since St Wenceslas Feast Initiative.
In the Czech anthem we sing, "Where is my home?" May our nation and our family become our home!
+ Elijah
Patriarch of the Byzantine Catholic Patriarchate
+ Methodius OSBMr                                    + Timothy OSBMr
Secretary Bishops
PS: The Byzantine Catholic Patriarchate (BCP) is a spiritual and moral authority in the contemporary Christian world. It takes the position of "Sede Vacante" by reason of defending the truths of the Catholic faith.
Copies of the Initiative to:
Government of the Slovak Republic
Government of Poland
Government of Hungary
Download: 100th anniversary of the Czech Republic (22/12/2017)